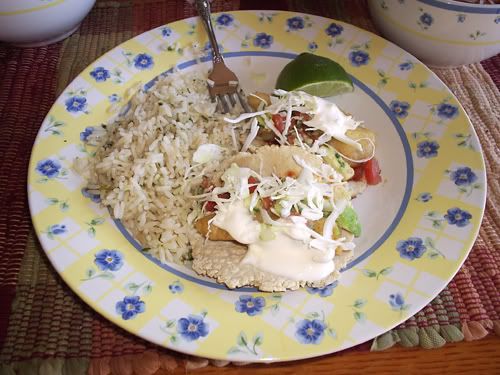 This is a great recipe to go with my design for this week's shirt.woot derby enty. Baja style fish tacos are one of my favorite things in the world. I'm not really a fan of sea food, but there is something irresistible about the combination of beer battered fish, cabbage and "secret sauce". Serve it with rice,papas con rajas and your favorite beer or a bottle of Mexican Coca Cola and you're in business.
Ingredients:
For the Fish
2 cups all purpose Flour
1 and a half tsp Baking Powder
half tsp garlic powder
half tsp ground mustard
half tsp black pepper
1 bottle cold beer
2 pounds Mahi Mahi, trimmed and cut into finger sized pieces.
a few limes
vegetable oil (for deep frying)
Avocado Pico De Gallo
1 medium onion
6-8 roma tomatoes
2 haas avocados
4 cloves of garlic
a handful of cilatro
juice from 1 lime
salt to taste
To Serve:
Corn Tortillas- Homemade are best, followed by taqueria sized. Mission also makes an extra thin corn tortilla that's great for tacos.
Secret Sauce- (half cup of mayonnaise, 2 tsp malt vinegar, 1.5 tablespoons milk)
Shredded cabbage
Avocado Pico de Gallo
Finely Shredded Cabbage- I like to buy the pre-shredded stuff in the bag
Tapatio or Cholula hot sauce
Your favorite red salsa- If you don't want to make the salsa, Frontera Grill makes some great bottled salsas.
a couple of limes cut into wedges
The Fish
1. Whisk together the dry ingredients. Stir in the beer till there are no lumps.
2. Squeeze a little lime on the fish and sprinkle with a little kosher salt
3. Pour oil in a heavy pot and heat to 350 degrees
4. Pat the fish dry with paper towels. Dip a piece of fish in the batter, it should coat the fish easily but not drip too much. If the batter is too thick, add a little beer
5. Add fish to the batter, coat well and lift if out of the batter. Let it drip once and gently place fish in the oil. Cook a few pieces at a time till they float and the batter is set, but still light. Remove fish from the oil and set on a rack to drain. This part can be a time consuming, but it's well worth the time.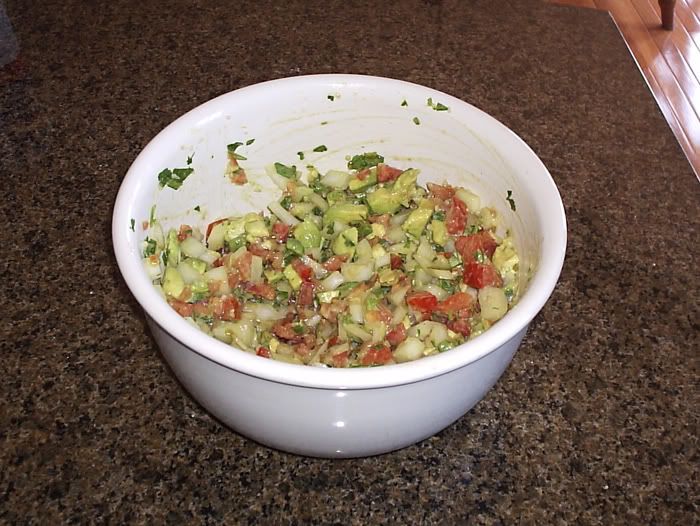 Avocado Pico de Gallo
1. Dice the onion as small as possible. Dice the Tomato and Avocado (cut the avocado in half, take out the pit and slice while it's still in it's skin), roughly chop the cilantro and mince the garlic.
2. Throw everything in a big bowl, season with salt and squeeze the lime juice over everything. Mix well and let the flavors blend for about a half an hour before serving.
The onion to tomato ratio is totally up to you. I generally like mine to have a lot of onion, some people like more tomato.
To Serve
1. Warm tortillas on a comal, non stick skillet or wrapped in a damp paper towel in the microwave
2. Add a piece of fish, squeeze lime over the whole thing, and a spoonful of secret sauce, salsa and/or bottled hot sauce, top with avocado pico de gallo and shredded cabbage.
I'd eat this every day if I could. I really don't eat fried foods these days, so I generally substitute the fried fish for either grilled or blackened. I'm not sure that there is a wrong way to prepare fish for tacos.